Felix Erazo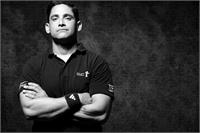 Felix Erazo instructs the following:
A sixty minute high intensity MMA inspired strength & conditioning class




For people of all fitness levels: improve your overall athletic performance with the Full Body Circuit Training class. This workout targets strength, cardio endurance, and muscular endurance, with plyometric training for explosiveness to achieve a total body transformation. Designed to allow you to catch your breath at one station, then challenge yourself at the next, this class is based on scientifically proven principles of High Intensity Interval Training (HIIT), and will get you addicted to fitness.